Op 21 januari 2017 zal het theaterprogramma Everybody's Talkin' in in Theater de Hege Fonnen te Lemmer worden uitgevoerd. Kaarten zijn verkrijgbaar via info@theacademy-franeker.nl, bij bandleden of te bestellen op:  dehegefonnen.nl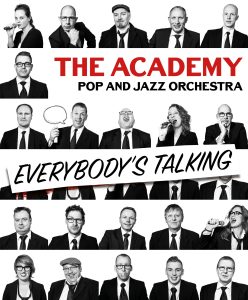 Het doel is het publiek te verrassen met een grote diversiteit aan stijlen, zodat het van de eerste tot de laatste minuut geboeid blijft. En niet alleen dat, maar ook dat er nog lang door iedereen over wordt nagepraat!
Everybody's Talkin' ging op zaterdag 6 februari 2016 in premiere in de Koornbeurs te Franeker. The Academy hanteert al jaren dezelfde succesformule: het creëert een muzikale en visuele achtbaan langs verschillende stijlen, in variërende bezetting, van klein en intiem naar groots en ultraswingend!